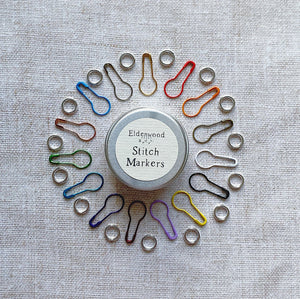 A small tin of really useful stitch markers for marking your knitting and crochet projects. The tin contains 15 ring and 15 bulb pins. 
The ring markers will fit needles up to 6mm. 
The bulb pins can be used as stitch markers or progress keepers. They are also great at keeping safe a dropped stitch. 
Colours of bulb pins will vary but each tin will have a mixture. Ring markers are all silver coloured.
Please read my Helpful Information page for details about shipping, customs charges, packaging, materials used etc. before placing an order.